New FlashDisk PetaStore Also Increases Density to Over 3.6 PB Per Data-Center Rack
May 28, 2014. Winchester Systems has upgraded its FlashDisk PetaStore to add "Hybrid" Flash capability—seamlessly combining Flash-based SSD performance with the economical capacity of magnetic disk drives. Designed for high density, FlashDisk PetaStore FX-4U60 now holds up to 600 six-terabyte disks in 40U of rack space, totaling over 3.6 Petabytes (PB) in a single cabinet. The new FlashDisk PetaStore storage system also beefs up I/O and throughput performance by adding 16Gb Fibre Channel and 10Gb iSCSI Ethernet host-connection support.
Leveraging the controller technology of the company's latest FlashDisk FX storage arrays, FlashDisk PetaStore enables Hybrid Flash support via Automated Tiered-Storage Pools, which group SSD and HDD drive types into two tiers within a virtualized storage pool. FlashDisk PetaStore controllers send write transactions to blocks in the higher-performing tier, and monitor the access frequency and age of each data block, automatically migrating "hot" or "cold" data to the appropriate tier. Storage tiers can also be defined based on other drive types or on different RAID levels.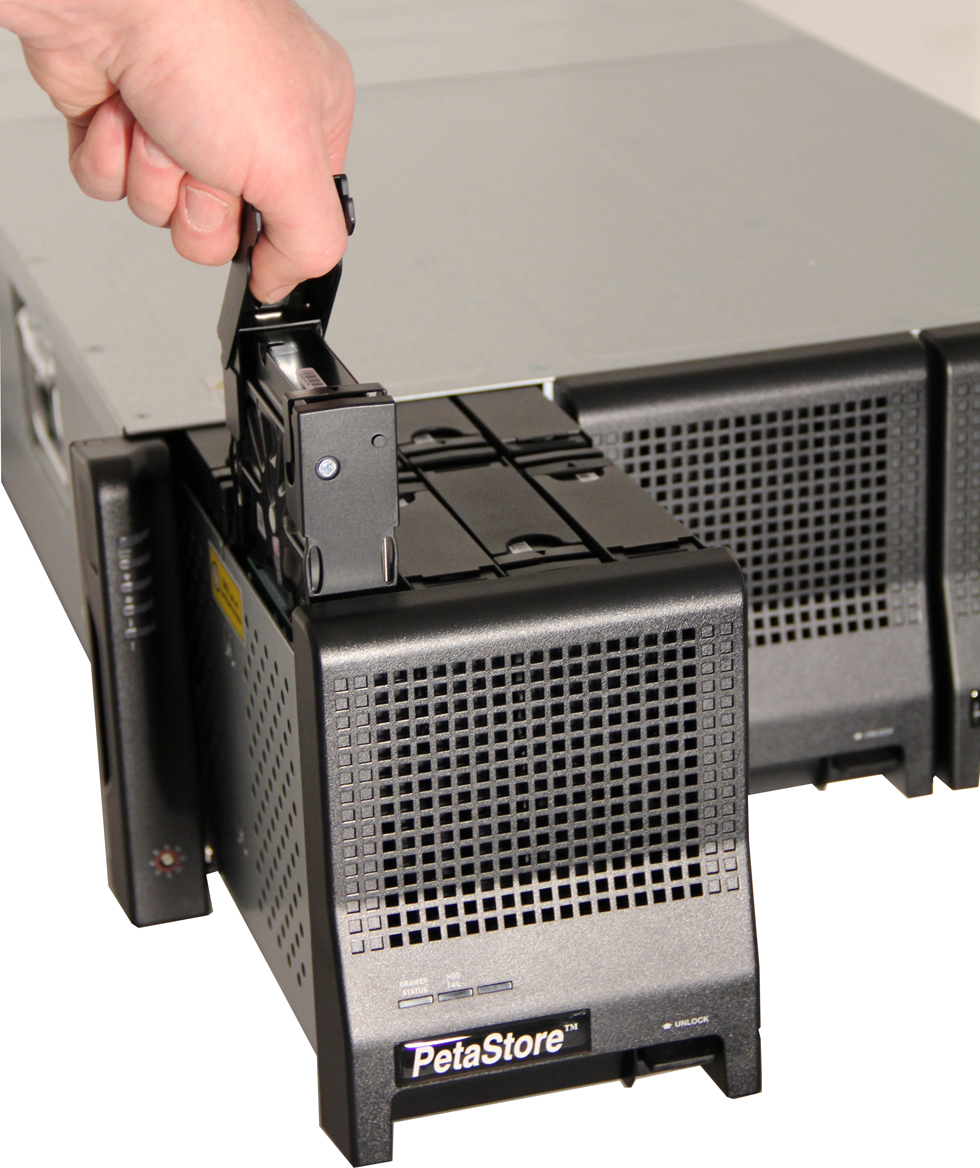 Easy, non-disruptive disk maintenance is vital in high-density environments such as those required by Big Data. So Winchester Systems engineered the storage shelves in PetaStore using a drawer-within-a-shelf design. Each 4U storage shelf holds 3 side-by-side disk drawers, each of which can be individually pulled open to reveal 20 hot-plug disk drives. This design is much safer than competing storage products that require sliding an entire 4U shelf all the way out of a cabinet merely to replace a single disk—shifting so much weight that such a cabinet requires anti-tip feet to protect storage admins from injury!
Each FlashDisk PetaStore FX-4U60 controller comes with two built-in 1-Gigabit Ethernet (1GbE) iSCSI ports, with additional 1GbE or 10GbE iSCSI, 8Gb or 16Gb Fibre Channel, or 6Gb SAS host ports provided via a hardware module that plugs onto the controller motherboard. Active-active redundant controller models support up to 12 host ports. This modular design makes it easy to tailor FlashDisk PetaStore to suit specific customer-solution requirements. It also enables easy field upgrades: customers can purchase a PetaStore system with 1GbE iSCSI ports, for example, and later upgrade it to 10GbE iSCSI or 16Gb Fibre Channel (FC) when they need faster connectivity.
"Most high-density storage products force customers to make trade-offs between performance, capacity, and ease-of-management," said Joel Leider, Chief Executive Officer at Winchester Systems. "FlashDisk PetaStore offers all three: Hybrid Flash and Automated Storage Tiering support, 360TB per 4U of rack space, and simple maintenance. Better still, enterprise features such as snapshots, thin provisioning, remote replication, and online capacity expansion are also available—making FlashDisk PetaStore a truly no-compromise solution."
The new FlashDisk PetaStore FX-4U60 systems are available immediately. Winchester Systems also offers storage-infrastructure consulting, on-site installation and service spares, and 24×7 product service and support for FlashDisk worldwide.
For more information about PetaStore, see the FlashDisk PetaStore FX-4U60 data sheet. To start designing a purpose-built infrastructure for your workload challenge, contact a Winchester Systems storage expert.