Features
FlashNAS ZFS 2U Storage System
Winchester Systems combines durable, redundant hardware technology with OpenSolaris and the ZFS file system to provide Enterprise-level data protection and reliability at down-to-earth prices.
Sporting controllers, power supplies and fans that are modular, redundant and hot-swappable, the FlashNAS ZFS hardware platform is purpose-built for continuous availability and long-term durability.
The revolutionary ZFS file system adds end-to-end error detection and correction, self-healing, and advanced SSD optimization features for unsurpassed protection of data integrity throughout the storage system. Building on this foundation, Winchester Systems FlashNAS ZFS adds advanced enterprise-grade functions such as storage-pool mirroring, remote replication, data archiving and retention compliance, anti-virus scanning, and NDMP backup and migration compatibility.
All of these capabilities are combined into a single integrated system with an easy-to-use, web based management interface. And there are no hidden, or "extra" costs to enable specific features. All functionality is available for the base system price.
Enterprise Class – Not the Cost
Redundant Controllers in a ZFS NAS
ZFS end-to-end integrity protection detects and repairs silent data errors
Snapshots, Mirroring, Replication, Anti-Virus, Data Compression, Disk Roaming, Thin Provisioning, Storage Pool Expansion, SSD Caching, MPIO, LUN Masking, WORM volumes, RAID data protection
Hot-Swap Components
Hot Spare Disks
Compatibility
CIFS/SMB V1; NFS V2, V3, V4; NDMP V2, V3, V4; LDAP V2, V3; HTTP/HTTPS; AFP V2.2.2 and older; iSCSI; SMTP; SNMP V1, V2C, V3; NTP, ICAP, FTP; FTPS; Secure FTP
Active Directory; LDAP V2, V3; NIS V2
Windows, UNIX, Linux, Mac OS X, Solaris, AIX, HP-UX
VMware 5.x certified
Management and Support
Easy and intuitive web GUI
CLI interface
Ethernet, SNMP, E-Mail Alerts
Warranty and Service
Three year factory warranty and toll-free hotline during business hours
Optional on-site service, spares, advance parts replacement, installation and 24×7 service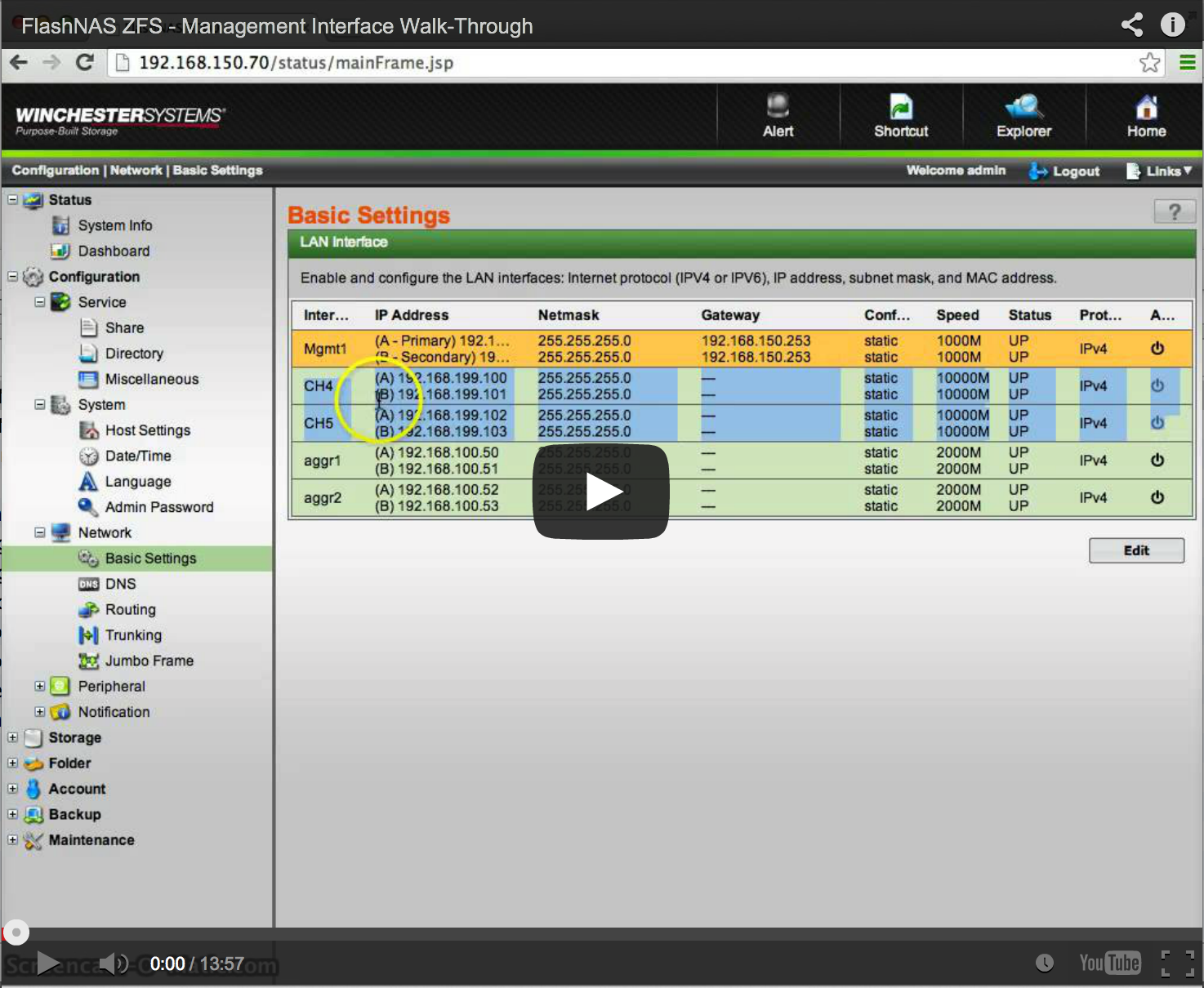 Durability, Availability & Protection
Enterprise Class: True enterprise functionality included in a simple to deploy storage system.
Redundant Controllers: Redundant active-active failover controllers, with automatic fail-back, deliver enterprise-class uptime.
End-to-End Data Integrity: Self healing architecture detects and repairs silent data errors using independent multi-level checksums.
ZFS RAID Levels: 0, 1, 5, 6, 50, 60.
MPIO: Multi-pathing data access for automated failover and load balancing.
Hot-Swap Components: Hot-swap controllers, disks, power supplies and fans.
Hot-Spare Disks: Standby disks that are ready to be automatically rebuilt to replace failed disks – and disks that are signalling imminent failure.
Expandable Storage Pools: Created from multiple RAID sets and easily expanded.
Unlimited Snapshots: Snapshots take no additional space until contents of a file share or volume change. The number of snapshots is limited only by disk capacity.
SSD Cache Data Acceleration: SSDs can be used as high speed cache to accelerate read and write performance.
Data Compression: Algorithms use variable size blocks based on data characteristics and results in typical data compression of 2x to 5x.
Remote Replication: Asynchronous replication between two FlashNAS ZFS servers via optionally encrypted link.
Backup Software Integration: Easy integration with standard backup software and NDMP compliant applications.
WORM: Protects files against deletion or tampering to meet regulatory data-retention and archiving requirements.
Anti-Virus Scanning: Supports ICAP anti-virus engines to detect and quarantine viruses before they are accessed.
CIFS/NFS/AFP Unified Security Model: Seamlessly share files across OS platforms.
Pool Mirroring: Synch and asynch mirroring of storage pools between FlashNAS ZFS systems.

Thin Provisioning: Create large virtual volumes and auto-allocate physical space as needed.
Disk Roaming: Disks can be removed and reinstalled in any order – especially handy for initializing a disaster recovery site.
Mixed NAS & SAN: Supports iSCSI volumes with LUN masking for data protection on same storage systems as NAS volumes.
Simple GUI and CLI: Manage RAID sets, storage pools, snapshots, mirrors, replication, compression and more via web browser or command line interface.
Enterprise Class Service: Includes 24×7 US staffed call center and next-day on-site service.
On-Site Installation: Reasonably priced on-site installation by factory trained professionals.
All Inclusive Pricing: Enterprise class file server with enterprise class features all included in the base price – no hidden upgrade fees.
Specs
FlashNAS ZFS ZX-2U12 Summary Specifications
Dimensions (WxDxH)
2U Chassis: 17.6″ x 25.6″ x 3.5″
Controller
Dual-Redundant Controllers
Maximum Memory
32 GB per controller, standard
iSCSI 1GbE Ports
8 x 1GbE ports included, 8 x 1GbE ports optional
iSCSI 10 GbE ports
4 x 10GbE (SFP+ or RJ45) ports optional
Fibre Channel 16 Gb ports
4 x 16 Gb ports optional
Internal SAS Disk Bays
12
Max. Disks – 2U Shelves
120 (9 x EX-2U12: 12-bay shelves)
Disk Drives – 7,200 rpm
2, 3, 4 & 6 TB
Disk Drives – 10K rpm
600, 900 GB & 1.2 TB
SAS SSDs
200, 400, 800 GB MLC
Power Supplies
Redundant 600W AC
AC Power
Dual 90-264VAC, 47-63 Hz
Cooling
4 redundant, hot-swap, temperature-driven fans
Front Panel
Removable with dust filter
Weight
68 pounds fully loaded
Operating Temp.
5 to 35ºC (32º F to 95º F)
Non-Operating Temp.
-40° to -60° C
Altitude
0 – 10,000 feet
Operating Humidity
5% to 80% non-condensing