Features
Affordable Performance
Up to 2 Intel Xeon 5600 CPUs, 12 cores
Up to to 192 GB memory
Over 1 PB of storage; 256 TB volumes
30% faster than Windows Servers
De-duplications saves 35% storage
Shallow 20" depth – superior cooling
Rackmount slides included
Compatibility
CIFS/SMB and iSCSI; NFS?option
Supports approved anti-virus software
1 Gbps Ethernet; 10 GbE option
Management & Support
Easy and intuitive GUI
Ethernet, SNMP, TELNET
On-site installation
24×7 service available
FlashNAS FN-1600 Unified Storage
FlashNAS Unified Storage is an affordable, feature-rich NAS that supports a single large virtual storage pool of CIFS & NFS volumes for Windows, Linux, Unix and MAC OS clients. It serves as 1U "gateway" to FlashDisk external RAID storage, or as a "appliance" using built-in EcoStore RAID. FlashNAS supports volumes to 256 TB and enables flexible and easy deployment of FlashDisk array capacity to multiple servers and thousands of users over your existing LAN infrastructure. FlashNAS Unified Storage serves files to any Windows, Unix and Mac OS X systems without added client hardware, software or rebooting.
Up to a Petabyte of Data – Plus Snapshots, Speed, De-duplication & Intuitive GUI
The FlashNAS Unified Storage FN-1600 scales to over 1 PB using two fully loaded FlashDisk VX-3400 disk arrays for primary and secondary storage. FlashNAS can create frequent, scheduled snapshot backups to protect data and provide rapid data restores using Windows Volume Shadow Copy Services (VSS). Powered by Windows Storage Server 2008 R2, FlashNAS is optimized for file I/O and is 30% faster than a standard Windows Server. FlashNAS Unified Storage provides seamless access to CIFS & NFS files, and to iSCSI SAN volumes.
FlashNAS Unified Storage offers built in data de-duplication featuring Single Instance Storage (SIS) that typically saves 35% of available storage capacity by eliminating duplicate files—linking them to a single file instead of storing multiple copies. FlashNAS Unified Storage supports 64 point-in-time snapshots per volume, folder based quotas, native support for Windows, Linux and UNIX environments and seamless file sharing across multiple operating systems. The FlashNAS Unified Storage system is configured and operated using an intuitive, web-based GUI that simplifies storage management.
Economical
Priced to compete with any quality NAS, FlashNAS Unified Storage is a great value because it's designed for use in environments where storage and servers are important to the enterprise. It supports thousands of active users – without Client Access Licenses (CALs) – for big savings. The entire integrated solution of FlashNAS and FlashDisk storage and accessories are supported under a single warranty and service contract. The standard warranty includes 24×7 call center support and next day on-site service. Four hour response service is also an option.
Security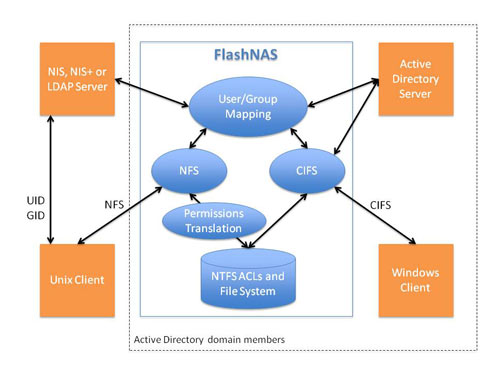 FlashNAS FN-1600 Unified Storage Server Authentication and Mapping
Because it's based on Windows Storage Server, FlashNAS can participate seamlessly in one or more Active Directory domains. For Unix-based NFS users, FlashNAS makes this process equally transparent. Unix NFS requests include User Identifiers (UIDs) and Group Identifiers (GIDs), which are mapped to a corresponding Windows-based network user; file access is then performed in the context of the mapped user to ensure access rules are enforced. Access may be provided to both local users and domain users.
In addition to one-to-one mapping between Windows and Unix user and group accounts, FlashNAS can map multiple Unix users to a single Windows user, or multiple Windows users to a single Unix user.
Services
FlashNAS FN-1600 Unified Storage Included Functions
Shadow Copy Service
Restores deleted or corrupted files within minutes using Shadow Copy of shared folders. Stores up to 64 point-in-time copies per volume and provides the ability to recover previous versions of files.
Storage Manager
Optimize storage resources by setting quotas at volume, directory, and user levels. Also provides a File Filtering Service to enhance security and optimization of data. Storage usage reports are created to monitor resources.
Backup
Supports standard Windows Server backup agents to participate seamlessly in enterprise backup strategies.
FlashNAS FN-1600 Unified Storage Options
Gateway Storage
FlashDisk external RAID series. Provides capacity to over 1 PB?with two disk arrays, uses 2.5" and 3.5" disk drives.
Appliance Storage
EcoStore 4U JBOD enclosures that utilize FlashNAS internal PCIe RAID controller
CA ARCserve Replication
Provides data protection to remote FlashNAS
CA ARCserve Replication HA
Provides manual, scheduled and automatic failover to remote FlashNAS
Quota limits enable IT administrators to allocate storage to departments as needed.
FlashNAS Unified Storage provides traditional file sharing services – and can also present volumes as iSCSI targets accessible to all network servers with proper security privileges.
FlashNAS Storage Management
FlashNAS Unified Storage provides shared file storage for both CIFS & NFS.
Specs
FlashServer FN-1600 Unified Storage Specifications
Dimensions
19" x 20" x 1.75"
Processor
Single/Dual Intel Xeon 5600 CPU - Up to 12 cores
Chassis
NEBS-3 compliant; designed to MIL-STD-810G
Maximum Memory
192 GB (DDR3) ECC
PCIe Expansion Slots
2 full PCIe?Gen2 x8 slots
2.5" SAS/SATA Disk Bays
2 locking hot-swap disks in shock isolated cage
Supported Disks
HDD to 1.2 TB; SSD to 1.6 TB
Hardware RAID Controller
RAID 1 & 0; LSI 6 Gb SAS2008
Power Supplies
450W/650W AC auto-ranging or 450W DC -48V
AC Power
Dual 110-240VAC, 50-60 Hz, 5-10A
Cooling
8 redundant, hot-swap, temperature-driven fans
Front Panel
Removable with dust filter
Standard Ports
4 x 1GbE, 3 USB, 1 VGA, 1 RS-232
Weight
24 pounds loaded
Operating Temp.
0° to 40° C
Non-Operating Temp.
-20° to -60° C
Altitude
0 - 10,000 feet
Humidity
5% to 95% (38° C) non-condensing