Remote Storage Monitoring, FlashAlert – "Call Home" Alert Service
Automated Support Service Eliminates Costly Downtime: Automated Alert Service included with every FlashDisk disk array for one year!
FlashDisk Constant Monitoring
In order to maintain the highest data availability possible you need constant up-to-the-minute detection of potential problems with your FlashDisk storage system. And once a problem is detected, getting it resolved quickly before it impacts your business is essential. With FlashAlert problem notification service, Winchester Systems helps keep constant vigil over your critical data – freeing you to use your valuable time for more productive tasks.
Automatic Problem Notification
FlashAlert is a proactive remote monitoring and failure alert service that provides the support you need to eliminate costly downtime. Each FlashDisk disk array includes a variety of notification services including e-mail, fax, LAN broadcast, SNMP traps, MSN messenger and SMS short messages. Importantly, when an e-mail alert is sent to a designated e-mail address at our FlashAlert Service Center, staffed 24×7, it triggers an automated response. A job ticket is immediately created, a qualified service engineer is assigned and the problem is quickly diagnosed – often before you are aware of it. The service engineer will contact you within an hour of receiving the alert with a corrective action plan within the terms of your selected support agreement and consistent with your prior instructions.
Protecting Your Enterprise
FlashDisk disk arrays include SMART (Self-Monitoring Analysis and Reporting Technology) that carefully monitors disk drives and predicts potential problems so that failing drives can be replaced before any loss of data. It also monitors environmental problems to avoid premature failures, data loss and potential disasters. This technology coupled with the FlashAlert automated "call home" service further enhances high availability by reporting potential problems immediately before your business is disrupted.
Secure Alerts
FlashDisk integrates into your existing infrastructure and conforms to your security policies. E-mail messages are sent through a standard e-mail server via FlashDisk so your system's security is never compromised. FlashDisk supports all standard network protocols. Installation Enabling FlashDisk with the automated FlashAlert notification service is quick and easy with the web-based user interface. Multiple contacts based on specific problem events can be configured so we contact the appropriate person via phone or e-mail to react to potential problems immediately.
 FlashAlert Advantages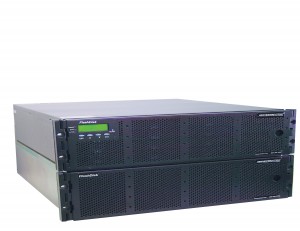 FlashDisk disk arrays include one year of FlashAlert Service.
Proactive FlashDisk storage monitoring
Automatic e-mail alerts accelerate troubleshooting
Immediate problem resolution within service contract terms
Increase data availability by eliminating downtime
Web-based user interface for easy configuration
Completely secure, no threat to internal security